Wednesday, April 21, 2010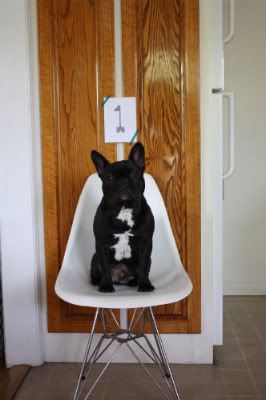 HAPPY 1ST BIRTHDAY OTTO
don't grow up too fast, ok?
Posted by

livi
at 6:44 PM
No comments:

Tuesday, April 13, 2010
Strawberries are out at the farmer's market and pop up stands have started popping up all over the city. Most of the time I try to eat seasonally, even if strawberries and tomatoes are in the market in December. It doesn't mean that it's good for the soil or for me. I think we have seasonal foods for a reason. I get the vitamins I need in the winter with butternut squash and beets and kale and in the summer with tomatoes, strawberries, and zucchini. I like to enjoy the foods of the seasons. Aside from all of that, I couldn't help myself from picking up 3 pints of strawberries on Saturday. I've been eating them with yogurt in the morning and plain at night.
I've had this recipe on hand for a couple years now and finally got around to making it. It's out of Martha Stewart magazine and hers is definitely more beautiful than mine but I like the rustic look of it and it was absolutely delicious! I could have eaten the whole thing. It was just what I needed to get my tastebuds ready for summer.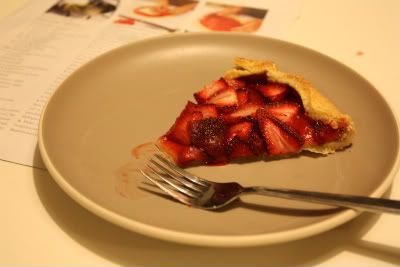 Last weekend we (mostly Steve) did some yard work in preparation for the spring/summer planting season. We need to get our seeds going and in the ground which means we had to pull out the winter garden. The whole thing was kind of a mess. We let it go early on because most of our root veggies didn't have loose enough soil to really grow (live and learn) and the other Brassicas we had were eaten alive by aphids. We did get a head of cauliflower, some broccoli, and our artichokes are still going strong. There were lots of weeds and leftover vegetables to be pulled. I went to pull up the measly carrot tops and had to fight the soil a little and to my surprise a lovely carrot came up with it! I pulled them all up and was so excited to see that we had our own little surprise crop of sweet nantes carrots!
Steve cooked them up that night with some oil, garlic, and herbs and they were so delicious. Fresh picked that morning and in our bellies at night. This is how we like our fruits and veggies, fresh and sometimes in pastry form.
Posted by

livi
at 11:43 AM
1 comment:

Wednesday, April 7, 2010
This was my first attempt at home canning and in a week or so I will know exactly how the end result turned out. I tried to do some internet research on why they are called frog balls and I came across
this story
that states "they are round like meatballs and green like frogs, therefore they must be frog balls."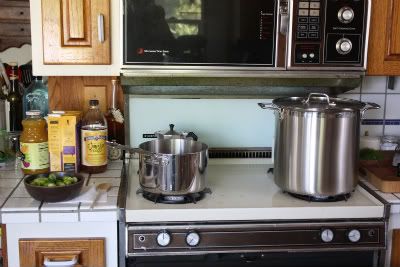 The process was super simple. I don't have a home canning set or anything of that nature, I just used what was available in my kitchen. Luckily we were given a beautiful new stock pot as a wedding gift (thanks Pop!) so I used this to sterilize the jars and can them. In another saucepot I steamed the brussel sprouts and also used this to simmer the brine. Other than that I just used a pair of tongs and some silicone pot holders.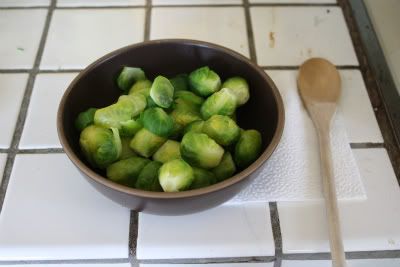 The whole hands on time was probably an hour. After the jars had completely cooled I drew up a little label, put them through my
xyron
(turns them into stickers) and then they were done.
I absolutely can't wait to try them, and my hand at other pickled and canning projects. This summer I definitely want to make and can some tomato sauce from homegrown tomatoes. The art of canning and preserving is having a resurgence in the urban homesteading community. I am excited to see where this takes us. A pantry full of home canned goods!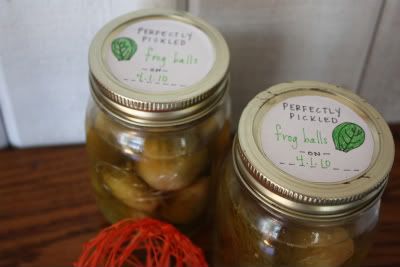 And in other news, look at these gorgeous artichokes we have! I didn't think we would get any once I read that the plant has a 4 foot deep taproot and we didn't dig enough to let that grow but we have one large globe and 3 little babies! Maybe we should cut the big guy and let the energy be given to making more little guys.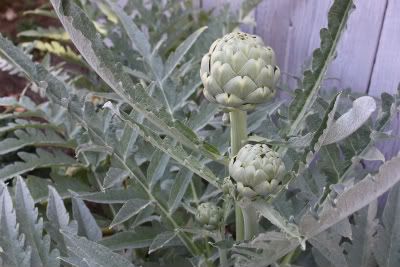 Posted by

livi
at 10:20 AM
2 comments:

Monday, February 15, 2010
Better late than never...I guess. Instead of writing a lot of words I will just post some pictures of the shower.
The invite: gocco'd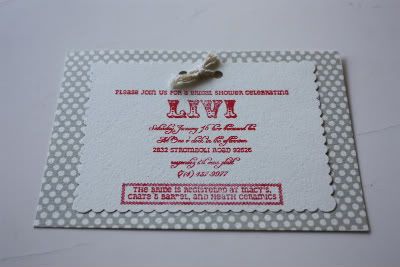 the spread: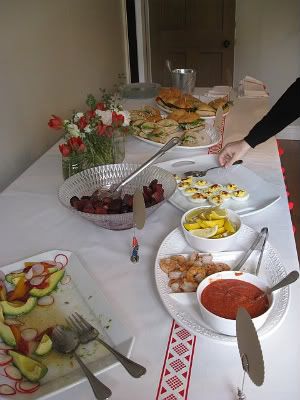 the dessert: delicious!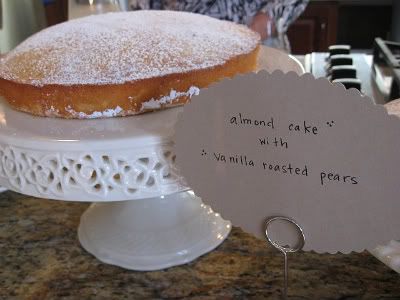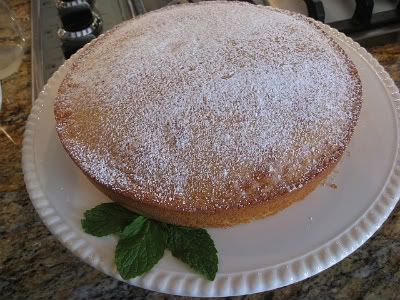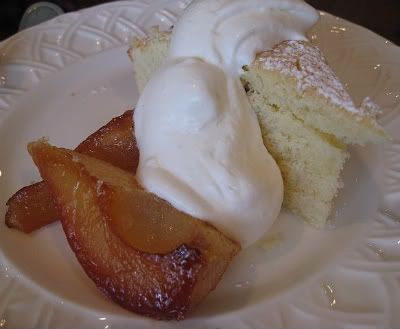 and the flowers: gorgeous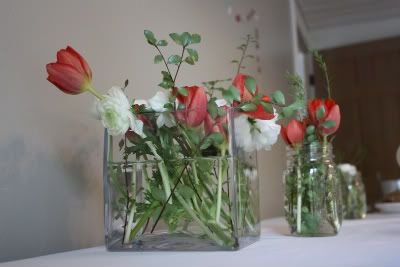 Thank you Lauren and Wayan for the photos!
Posted by

livi
at 9:08 PM
No comments:

Thursday, February 11, 2010
I wanted an easy and fast way to make a few Valentine's cards. I first tried cutting out some paper hearts but they weren't doing it for me. Then I remembered the many times I have seen other wonderful crafty women (and men I'm sure) make stamps out of rubber erasers. So I took my crafting knife, drew a small heart on the top of a pencil eraser, and carved away.
It's so easy to make and the best part about it being a pencil is that it has a handle built right in. I am super happy with how it turned out and can't wait to find more uses for my little heart.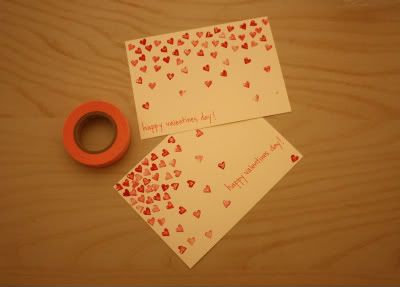 Posted by

livi
at 9:05 PM
1 comment:

Tuesday, February 2, 2010
My wonderful mother threw me a beautiful bridal shower a couple weekends ago. I will post more of the details later this week but I wanted to share the favors in their own post. I definitely wanted to help out with the shower and this was one way to do it.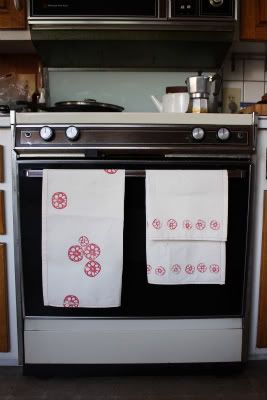 I won't lie, every now and again I like to be the center of attention, but more often than not I don't. Now when you are the guest of honor at a bridal shower it's really hard to not be the center of attention. I wanted to make sure that every person who attended knew just how important they are to me and why I wanted them to be there. I decided to make a favor for everyone that would actually get used and not thrown into another drawer with the little bags of jordan almonds and similar things.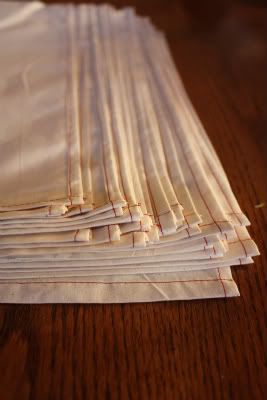 My mom and I decided to make tea towels. We found some linen that we liked, bought a few yards, and my mom cut and sewed all of them! She really is amazing. I knew from the beginning that I wanted to print on them using a lotus root and this is where things got tricky. I bought fabric paint which ended up being too thick and quite a disaster.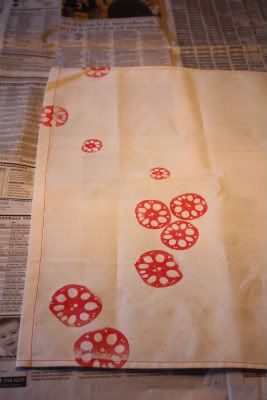 We then realized that using an ink pad would be the best option and give us the best print but the hard part was finding one that was a) good for fabric and b) permanent. We scoured the internet, called countless stores, and finally found the ink pad we needed. The only problem is we could only find one retailer in the area and they were still 15 miles away. The brand is VersaCraft if you ever find yourself in the same bind. We drove out there the next day and bought the ONLY red pad they had left. Printed, heat set, and ready to go!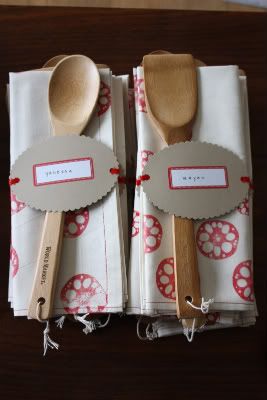 To finish it off, we added a wooden spoon and a label. On the back of each label I wrote a little note to each person. It was such a wonderful day and I can't wait to share the rest of the details!
Posted by

livi
at 9:53 AM
3 comments:

Thursday, January 28, 2010
My wedding band is finished and I wanted to share it with you all. I absolutely can't wait to wear it everyday.
This is the ring
before
. It was a ring my parents gave to me as a purity ring when I was a teenager. It wasn't really my style anymore but I wanted to turn in into something I would have forever.
(look at the beautiful packaging it came in, a little wooden box with a glass lid!)
I found
Bario Neal
a few
months
ago and decided to have them make my wedding band. They used the four diamonds from my original ring and recycled the gold for me.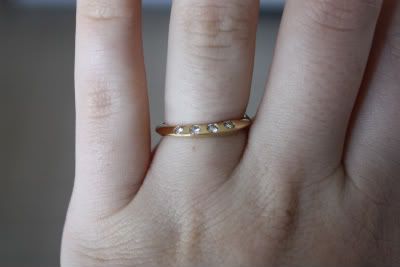 They did an absolutely fabulous job and I am so deeply in love with it. It is perfect for me and I am so happy that it is something no one else will have and that the diamonds are so personal to me. Bario Neal uses all recycled metals and ethically mined gems and they donate some of their profit to charity (and are super reasonably priced to begin with).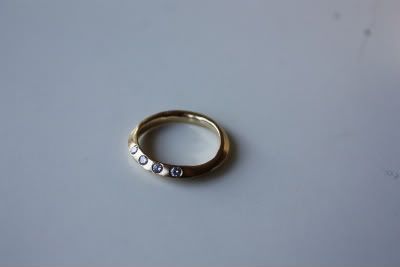 They even have my ring on their website under custom work right
here.
Posted by

livi
at 6:43 PM
2 comments:

Wednesday, January 27, 2010
I know I haven't blogged in almost 2 months but lets just pretend that never happened. I promise to get back into the routine. New year, new camera, new events.
From the beginning we knew that we wanted to do all of our save the dates and invites ourselves. This turned out to be a lot of stress but totally worth it. The
save the dates
weren't that difficult but the invitations turned out to be quite the project.
I gocco'd the reply cards first and they were simple and painless and turned out perfect.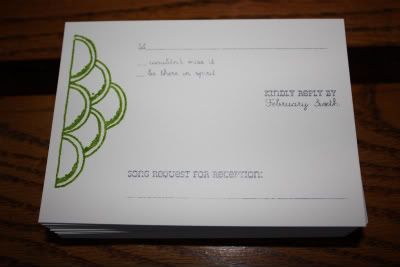 Then came the invitations themselves. Now the problem that I ran into was completely my own fault. I made the image just
a tad
larger than is recommended and realized that the size limit is there for a reason. I had to jimmy-rig my gocco with cardboard siding to allow for a larger surface area to print onto. It was quite the nightmare for a couple hours but it all worked out and we were able to print exactly the number we needed.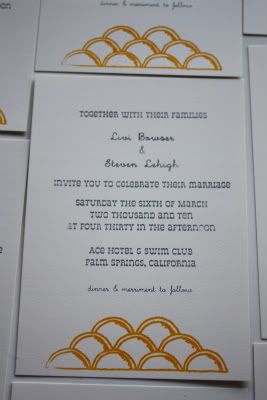 I did take the design from another source but I did hand draw it myself. The fonts were free from
dafont.
All gocco'd in a row!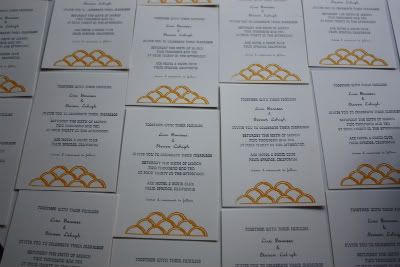 I would have loved to have all of the addresses hand calligraphed but in the end it is way out of our budget and most people toss em in the trash anyway. So I just went with labels from
Paper Source
and they made me just as happy.
(more on the Obama's invitation later)
Posted by

livi
at 10:14 AM
1 comment:

Monday, December 7, 2009
A few weeks ago, Steve and I took a trip to the aquarium. I had been begging him to take me for the longest time so I finally just took charge and bought the tickets myself. At Orange Coast College you can buy tickets for a discount if you are a student so that's just what I did.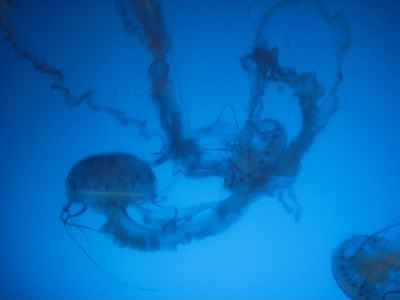 One of the best things about the Long Beach aquarium are the jellyfish. They are so extremely interesting to watch. They look so gentle and graceful, you would never think they could kill you with one touch.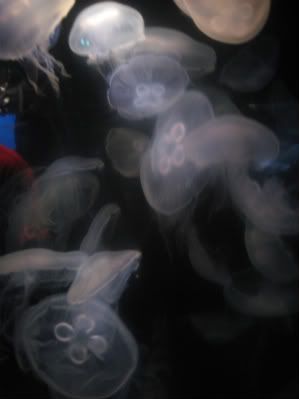 The day was a little lackluster, as amazing as it is to see all of the wonderful creatures, it just isn't as exciting as I remember from when I was a kid.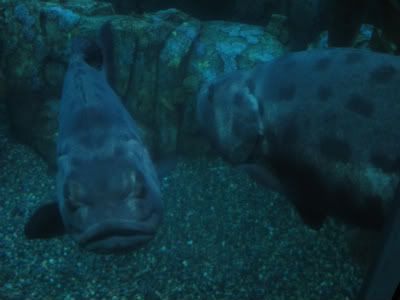 This guy was huge, much bigger than he looks in the picture, and he came right up to us and stared. My favorite part about the whole day had to be the manta rays. I told Steve that if there was a place that I could pay $2 to touch manta rays I would go all the time. I was too busy playing to take any pictures of them but I did get a picture of this little guy.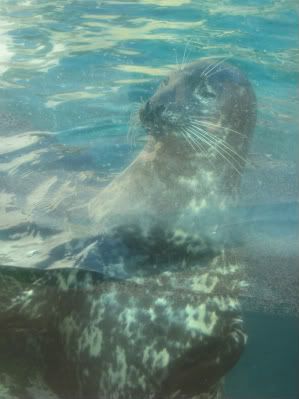 All in all, it was definitely worth it to do something different from the weekly routine. Support a local establishment and spend some time with my guy. I recommend it if only for the rays and jellyfish.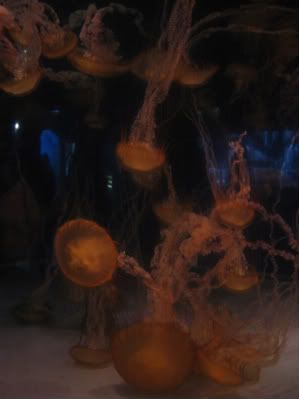 Posted by

livi
at 9:02 PM
1 comment:

Thursday, November 12, 2009
Paloma's Nest
has been making it's rounds on the wedding blogs for awhile now so I decided to jump on the wagon and acquire one of their custom ring bowls for us.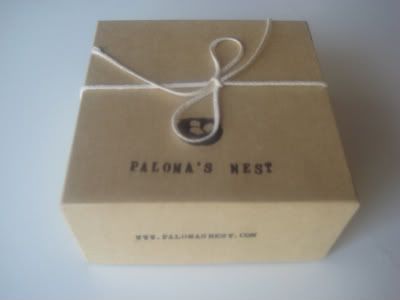 Paloma's Nest studio is powered by 100% renewable wind energy and uses recycled materials whenever possible. The packaging was almost as nice as the product itself! We aren't having a wedding party let alone a ring bearer so our officiant, Kelsey, will just have carry it in his pocket.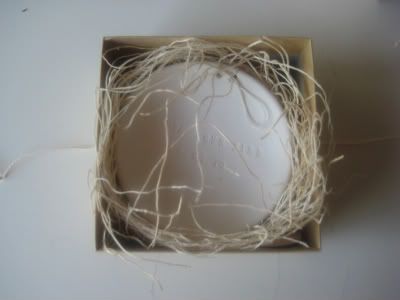 Not only will this be a wonderful keepsake from our wedding day but we can use it as an ornament afterward. Steve and I have a little tradition of buying/making/getting ornaments as vacation keepsakes and significant events or things in our lives. And I can't think of anything more significant in our lives up to this point than our wedding.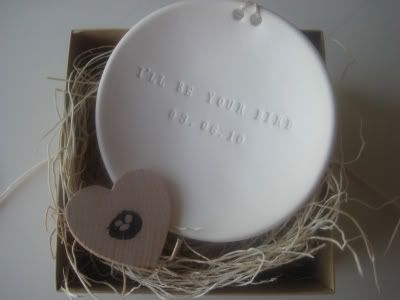 I can't wait to marry such a wonderful, loving, caring, intelligent, and funny man. He really is my other half and I am so much more complete with him.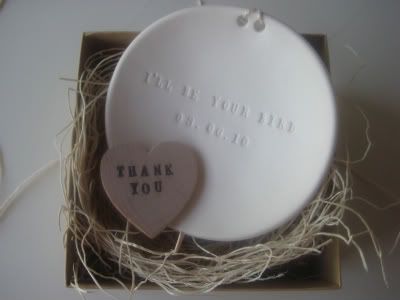 Posted by

livi
at 9:35 AM
3 comments:

Tuesday, November 10, 2009
Holidays are my favorite time of year. Not only because of the parties and family and delicious food but I love decorating my home for the holidays. In past years, Christmas always gets the most attention but this year I wanted to add some new things to the fall decor.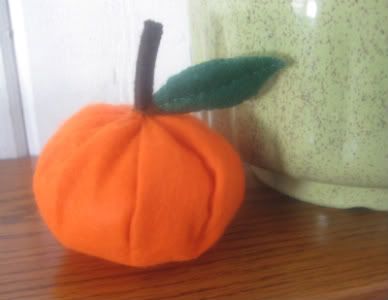 I had an idea and didn't know how well I could execute it but I was going to try. It didn't turn out as well as I'd like and I rushed it a little so the stitching isn't perfect but I think it is a wonderful addition to the mantle until December rolls around.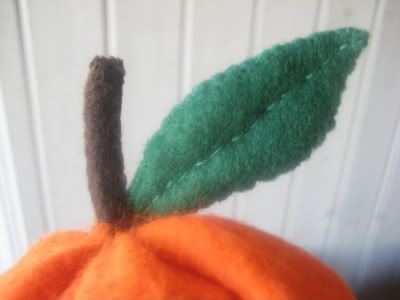 Posted by

livi
at 3:24 PM
1 comment:

Tuesday, November 3, 2009
I have always had a love of all things paper, especially cards. There are so many wonderful companies, big and small, making cards and if I had a letterpress I would love to be one of them. For me, working on a smaller scale at my kitchen table making cards for friends and loved ones is more than good enough. Recently I have been using scrap paper and origami sheets to make shapes and then using a glue stick to adhere them to blanks I have gotten from Michael's. Here is a last minute card made for my friends' wedding. I would use rubber stamps for everything if it wasn't so tedious.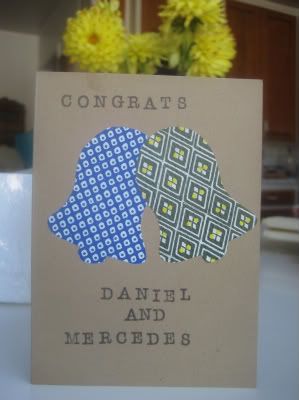 Once again the theme of making something yourself which you could easily buy comes up. A beautiful screenprinted or letterpressed card can cost you upwards of $3 but a pack of 12 blank cards and envelopes cost about $5 with the paper either being free from your scrap pile or a couple bucks for a pack of origami paper.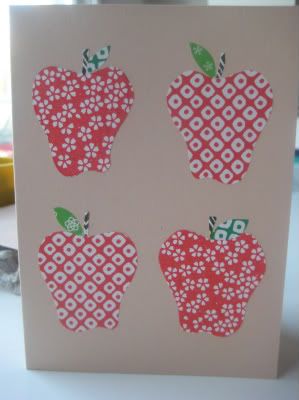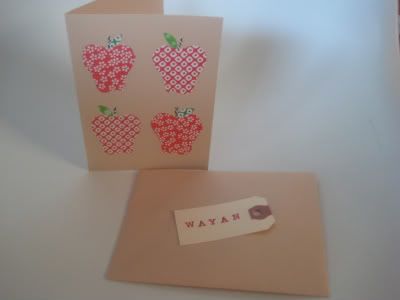 I also have a stack of creme postcards from Papersource that we used for our Christmas Cards last year that I have been slowly going through. Here, I whipped up a little Halloween card to send out with a gift. When it comes down to it, not only am I saving money but I am being creative and making things for people that I love. I know that I love receiving handmade goods so I might as well give them too.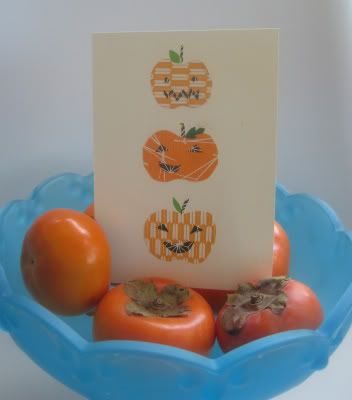 Posted by

livi
at 12:15 PM
1 comment:

Sunday, November 1, 2009
I was reading a post on
The Tangled Nest
about making your own pita. It turns out the recipe she uses is from Vegetarian Cooking for Everyone by Deborah Madison which is a book I have acquired through Steve. It is chock full of fabulous recipes and is also a great reference for different vegetable cooking techniques. Looking over the recipe I realized how easy it was to make. I swear I will never buy pita again.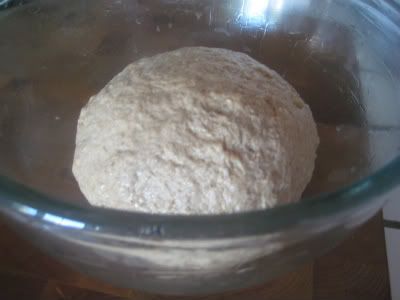 The recipe makes ten fairly large pitas but you could easily break that number down into smaller portions. Since the are not baked in the oven (which they can be) they aren't puffed and therefore not able to be filled. I did these in the cast iron which makes them more along the lines of flat bread. Plus they only take 30 seconds on each side.
Next time I will roll them a little thinner. They were a little too bready for the dinner we had planned with them. Hummus, olives, tomatoes, and chive yogurt dip. I can't wait to make more.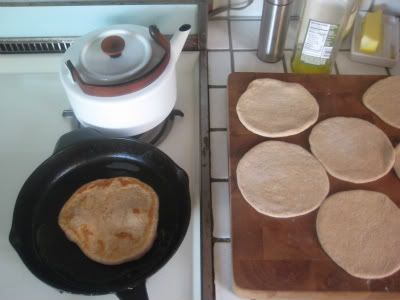 There is something about not only growing your food but making things fresh with your own hands that you could easily buy from the grocery store. We took a couple over to my parents and it is so much more satisfying to give and eat what you made than what you bought. They were so fresh tasting and tasted just as good the next day heated over a flame. Delicious.
Posted by

livi
at 10:27 AM
No comments: