Strawberries are out at the farmer's market and pop up stands have started popping up all over the city. Most of the time I try to eat seasonally, even if strawberries and tomatoes are in the market in December. It doesn't mean that it's good for the soil or for me. I think we have seasonal foods for a reason. I get the vitamins I need in the winter with butternut squash and beets and kale and in the summer with tomatoes, strawberries, and zucchini. I like to enjoy the foods of the seasons. Aside from all of that, I couldn't help myself from picking up 3 pints of strawberries on Saturday. I've been eating them with yogurt in the morning and plain at night.
I've had this recipe on hand for a couple years now and finally got around to making it. It's out of Martha Stewart magazine and hers is definitely more beautiful than mine but I like the rustic look of it and it was absolutely delicious! I could have eaten the whole thing. It was just what I needed to get my tastebuds ready for summer.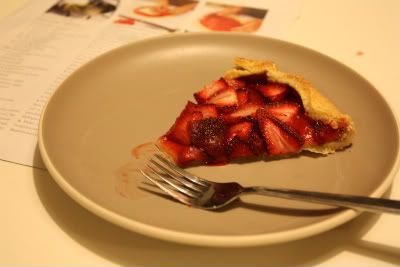 Last weekend we (mostly Steve) did some yard work in preparation for the spring/summer planting season. We need to get our seeds going and in the ground which means we had to pull out the winter garden. The whole thing was kind of a mess. We let it go early on because most of our root veggies didn't have loose enough soil to really grow (live and learn) and the other Brassicas we had were eaten alive by aphids. We did get a head of cauliflower, some broccoli, and our artichokes are still going strong. There were lots of weeds and leftover vegetables to be pulled. I went to pull up the measly carrot tops and had to fight the soil a little and to my surprise a lovely carrot came up with it! I pulled them all up and was so excited to see that we had our own little surprise crop of sweet nantes carrots!
Steve cooked them up that night with some oil, garlic, and herbs and they were so delicious. Fresh picked that morning and in our bellies at night. This is how we like our fruits and veggies, fresh and sometimes in pastry form.