My wonderful mother threw me a beautiful bridal shower a couple weekends ago. I will post more of the details later this week but I wanted to share the favors in their own post. I definitely wanted to help out with the shower and this was one way to do it.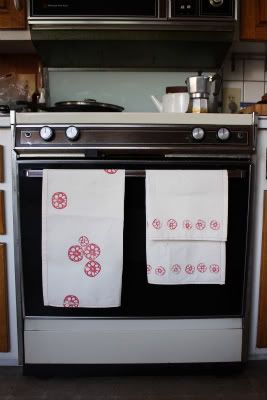 I won't lie, every now and again I like to be the center of attention, but more often than not I don't. Now when you are the guest of honor at a bridal shower it's really hard to not be the center of attention. I wanted to make sure that every person who attended knew just how important they are to me and why I wanted them to be there. I decided to make a favor for everyone that would actually get used and not thrown into another drawer with the little bags of jordan almonds and similar things.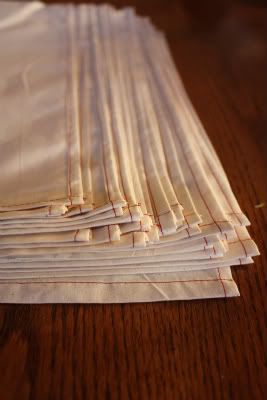 My mom and I decided to make tea towels. We found some linen that we liked, bought a few yards, and my mom cut and sewed all of them! She really is amazing. I knew from the beginning that I wanted to print on them using a lotus root and this is where things got tricky. I bought fabric paint which ended up being too thick and quite a disaster.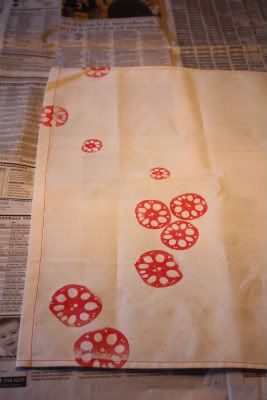 We then realized that using an ink pad would be the best option and give us the best print but the hard part was finding one that was a) good for fabric and b) permanent. We scoured the internet, called countless stores, and finally found the ink pad we needed. The only problem is we could only find one retailer in the area and they were still 15 miles away. The brand is VersaCraft if you ever find yourself in the same bind. We drove out there the next day and bought the ONLY red pad they had left. Printed, heat set, and ready to go!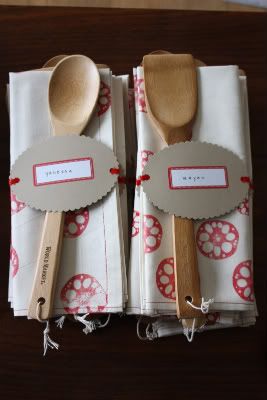 To finish it off, we added a wooden spoon and a label. On the back of each label I wrote a little note to each person. It was such a wonderful day and I can't wait to share the rest of the details!