Now that everyone has (hopefully) received theirs, I can finally post about our save the dates! This was my first time ever using my
Gocco
and it was definitely a challenging experience. There are a lot of "learn-as-you-go" aspects to the process but I was happy to learn along the way. I originally was only going to use two screens for the postcards but by taping on the screen to prevent ink bleeding, I ruined another part of it so I ended up using three for this project.
We are getting married in Palm Springs and we wanted to bring that into play with the save the dates but also wanted them to be fairly simple. I hand drew the cacti, banner and "save the date". The rest was done on the computer, printed, and gocco'd. There are two layers to the cacti that had to be printed separately and since we wanted them to have a handmade feel, I didn't worry too much about the imperfections.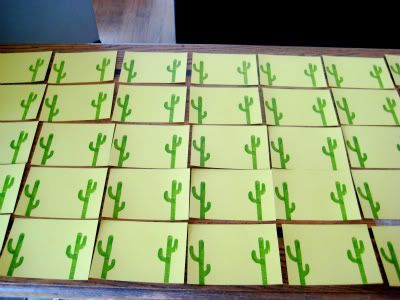 The second round was the banner. I definitely could have done the font on the front during this printing as well but with trying to get all of the elements on only 2 screens, I kind of screwed up in the process. This was one of those learning moments that I hope I don't have to learn again.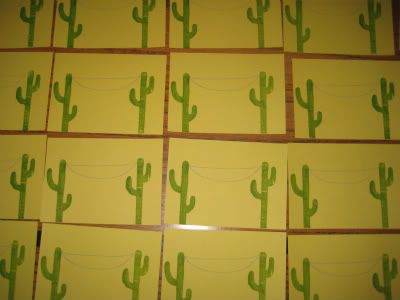 Here is a close up of the postcard before the writing and with the second layer of the cactus printed.
Lastly, the finished product. The fonts I used are Air Conditioner (found
here
)and Modern No. 20
I honestly think that the back turned out to be my favorite. I am not super computer savvy so I typed out my own calendar and ended up using a red pen to draw a heart around our date on each card. The labels are from Paper Source and addresses were printed on. The finishing touch is the adorable King and Queen stamps that everyone loves. I hope you enjoy them as much as I do!